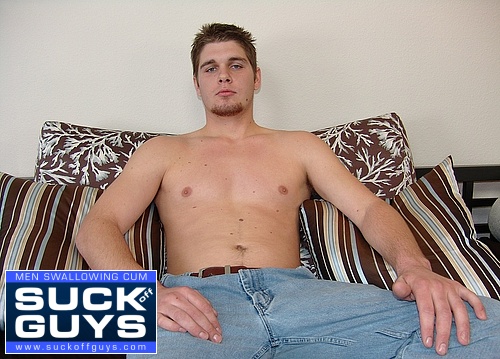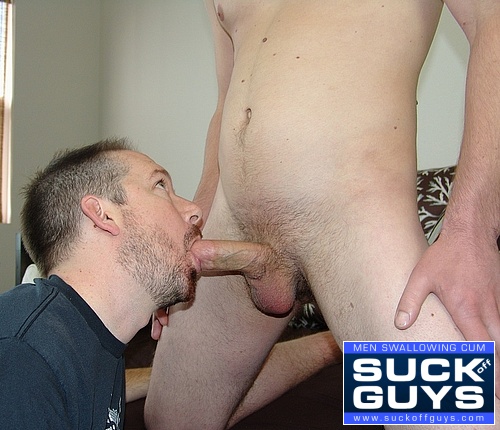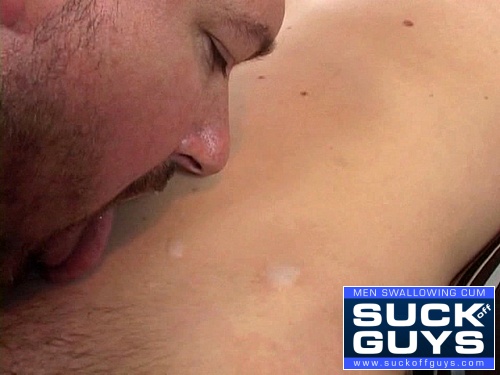 Tony is a beefy 21-year-old Italian stud that submitted via our online modeling form. We called him in for an interview and he showed up with a gay friend to "check us out". He was extremely nervous, but adorable. He told us that he's pretty much straight but was open to letting a guy swallow his load. We knew he needed to be on our site.
Once at the studio he was still nervous; that's to be expected. We ask him to get naked for some photos and he reveals his beefy hot body. Tony's got a great chest, tight bubble butt, nice torso and sports a big fat dick. We think Tony is quite the all-around hottie.
After Tony starts to play with his cock, Seth moves in for the blowjob. After a few sucks and pumps, Tony indicates he likes it rough and instructs Seth to pull harder and suck more aggressively.
Bravo to Seth who sucked Tony for quite a long time while Tony moaned with every hard pull to his cock. Seth was squeezing so tight he thought he might hurt Tony. Tony obviously loved it as he kept getting harder and harder.
Tony is now really close to cumming and Seth is really excited to get some of Tony's hot straight cum into his body.
Tony erupts and Seth gets his hard earned reward. Seth worked so hard that he wasn't about to let any of Tony's load go to waste. He licks up every drop of spillage that landed on Tony's stomach. He then licks the cum off Tony's cock-head. To be 100% sure he got it all, Seth puts Tony's cock back in his mouth until it goes totally limp. He squeezes Tony's shaft and milks out more man-juice. He swallows the last drops of semen.
As Seth releases his straight man-slab, Tony thanks & praises him for the fantastic blow-job. He said he happy to have somewhere to get a little relief when his "girls" are around. Anytime Tony!
Later Tony said he was amazed how there was nothing to clean up. It's part of why getting sucked off by a guy is so much better than by a girl. Girls will rarely swallow your cum, especially your entire load.
That's right Tony! It takes another man to fully appreciate and devour another dude's man-juice. At SUCKoffGUYS.com, that's what it's all about… Getting to the load, sucking down and swallowing every last drop!
SIMILAR STRAIGHT GUY & FIRST GAY SEX VIDEOS: