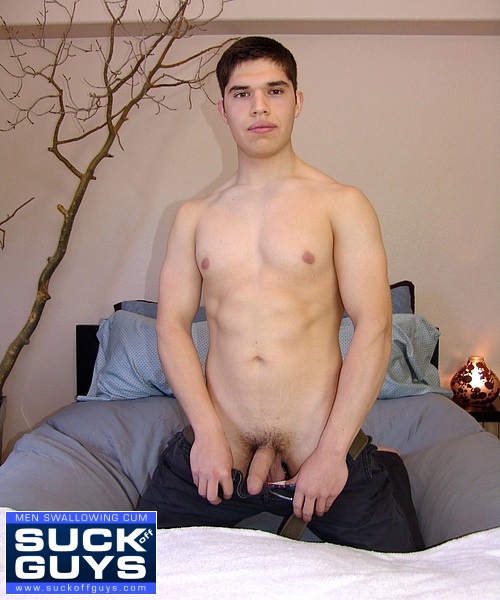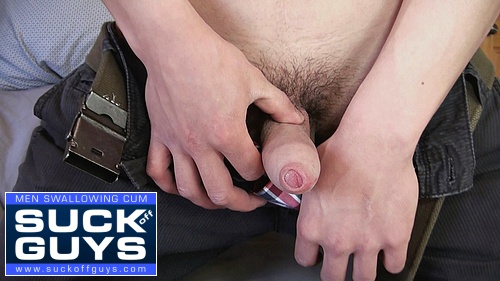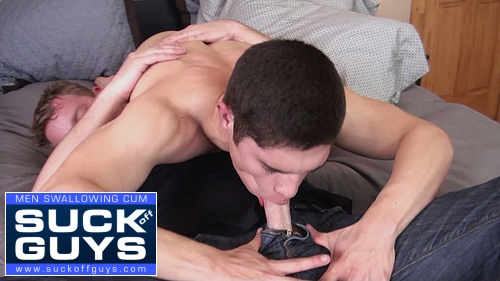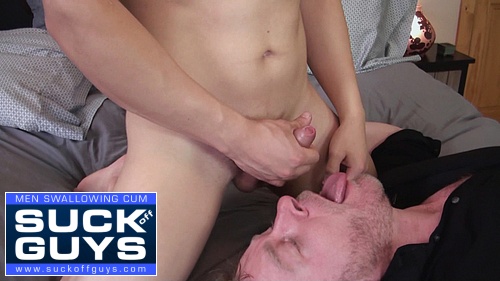 Mitchel Knight is a hot 19 year-old that stopped in for an amazing blowjob scene with Aaron French. Mitchel is uncut and has a nice tight body. As you'll see, Mitchel is a reserved kind of guy; that is, until his clothes come off.
Mitchel was a little nervous when Aaron moved in to take off his pants. Once his shirt was off and belt undone, his pecker pops out of his boxers fully hard and ready to suck. Aaron gets a couple of licks to the tip before he full-on starts sucking.
Mitchel relaxes almost instantly once the BJ starts. He then starts thrusting and moaning like a mad man. Grabbing the back of Aaron's head, he slams his dick into Aaron's face. Aaron begins to rub his amazing bubble butt, spreading his cheeks and exposing his tight hole.
Aaron notes that once his hands hit Mitchel's butt, the intensity multiplies by 100. Mitchel now on his back with his legs over Aaron's back, he's in a perfect ass eating position. The butt munching starts and Mitchel goes crazy!
Mitchel throws his legs in the air and allows Aaron to eat away at his hole, shoving his tongue deeper. The action then continued back and forth from his ass to his cock.
Mitchel kept grinding and pushing his cock as Aaron blew him. He then grabs Aaron's hand starts sucking on his fingers. What do you think he was trying to say?
The guys had to get him on all fours in order to show off his fucking hot butt. What the guys were surprised by is that Michel kept saying things like, "don't stop", "fuck me please", etc… Sounds like someone will be poked soon!
Aaron spends some quality time with Mitchel's ass. Mitchel just kept rocking back and popping his butt up like a stud in heat.
Don't worry, the sucking continues as the guys get more heated. His writhing was out of this world sexy. At one point as the sucking was moving into deep throating, Mitchel begs Aaron not to stop and again, starts to suck on Aaron's fingers.
Mitchel then plants his ass on Aaron's face and starts to grind his ass on his mouth. At this juncture, both the guys are quite heated and having an amazing time. Mitchel then grabs at Aaron's crotch and feels his boner.
Having taken all the "finger sucking" clues, Aaron unzips and lets Mitchel have a go on his cock. Mitchel is like a hungry animal, it really seemed that he couldn't get enough!
After some pretty intense sucking and down-right hot sex, Aaron was ready to have him blow a load. Mitchel requested that Aaron lick his body and finger his ass. That does the trick and he lays down and load of jizz. But wait, there's more!
Mitchel says that "wasn't his cum shot"…. Whaaa? So, he tugs out another hot load into Aaron's mouth. All we can say is WOW!
We really hope you like this video, cause the guys had an amazing time shooting it. Make sure to check back for more of Mitchel. We're thinking next time Mitchel is going to get his ass plowed! Enjoy!
SCENES WITH MITCHEL KNIGHT: