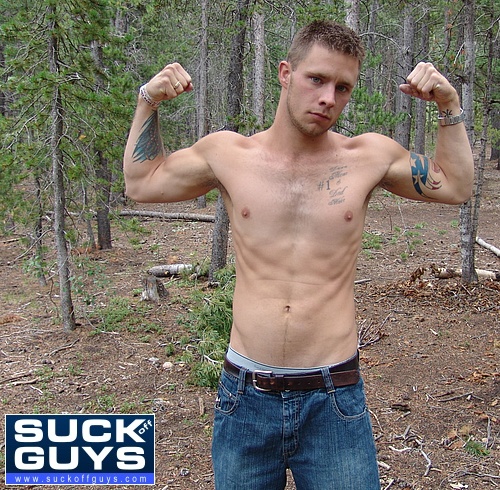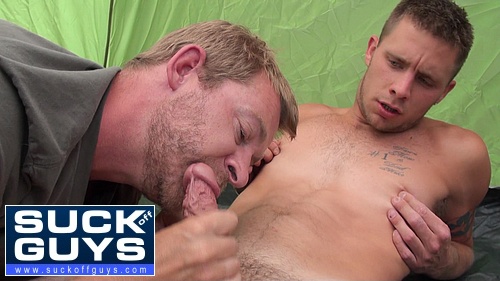 Aaron & Seth head to the mountains with Walker Michaels. We get all set up, start the shoot and suddenly the skies opened up. Thankfully we came somewhat prepared and erected a tent in 60 seconds flat.
Walker recently injured himself pretty severely playing basketball. He could barely bend one of his legs and could really only be in a few positions. We asked him if he wanted to do the shoot another time. He refused saying he really needed to bust a nut and totally gets excited watching a dude swallow his load. No problem!
Aaron & Walker start off outside with Walker standing and Aaron on his knees. The rain came really fast and the boys head to the tent. Almost the exact moment we all entered the tent the rain really started coming down crazy hard. As you'll hear it's really loud for a few minutes.
Walker really gets into this BJ and starts to face fuck Aaron. Aaron takes back over and Walker warns, "I'm gonna come soon!". This gets Aaron really excited as he knows from past scenes how good Walker's load is.
Walker shoots, blasting Aaron's face. Aaron massages Walker's prostate trying to get every last drop of Walker's straight man juice out and into his mouth. He sucks every drop out of Walker's cock then cleans up a few more drops that spilled over.
This was a really fun shoot on what we now call Thunder Mountain. Enjoy!
SCENES WITH WALKER MICHEALS:

Blasting Walker

Cum Bubbles

Thunder Mountain Facial

Birthday Rim & BJ

Walker & Shane

3-Way Fuck

Cum Lube + Double Facial

Walker & Kyle

JJ's Cum Shower

Fucked by Walker

Walker & Seth

Walker & Quinn