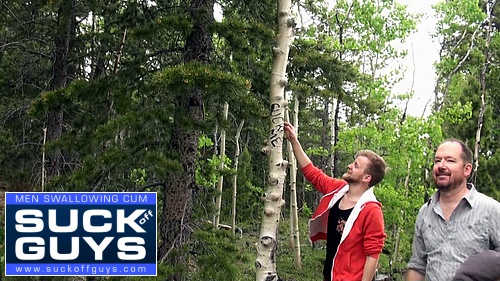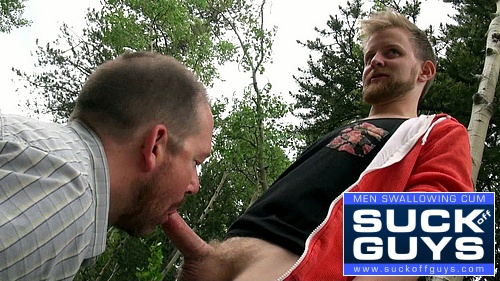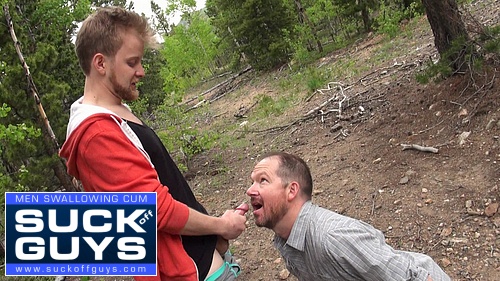 Watch as Hunter Oakley shoots his load down Seth Chase's throat under "The Suck Me Tree".
Wandering through the woods near an old mining town, Hunter & Seth come across an aspen tree with the words "Suck Me" carved into it. It looks super old and the boys wonder how long ago & how many guys have had their cocks sucked under this tree.
Neither Hunter or Seth are about to let this cock-sucking opportunity pass them by. Hunter whips out his cock & Seth drops to his knees.
As Seth sucks on his dick it grows bigger and bigger. After some deep-throating and ball sucking, Hunter is ready to pop.
Seth creates a perfect ramp with his mouth and tongue for a smooth cum landing. Jets of jizz shoot out of Hunter right into Seth's mouth. Seth deep-throats Hunter as cum streams out of his cock.
Hunter's dick is now super sensitive. He pulls out of Seth's mouth as his body twitches from the sensation.
Droplets of cum are still oozing out of Hunter's dickhead. Seth uses his tongue to clean up the drops of semen.
A new cock & a fresh load swallowed under "The Suck Me Tree"…
SCENES WITH HUNTER OAKLEY: