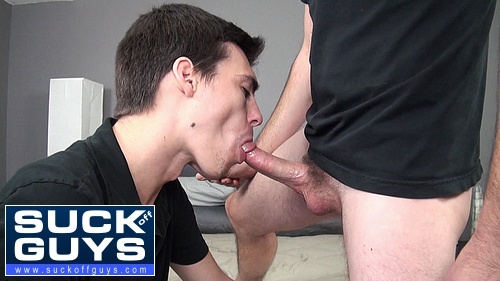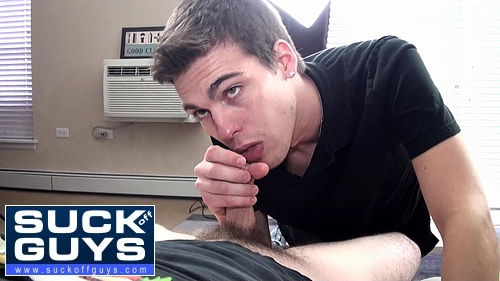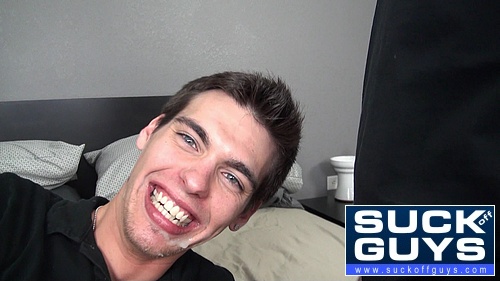 In this update, Aiden Carter is geared up for one of Seth Chase's huge cum shots. The video begins with the guys getting right down to cock sucking business.
Aiden takes off Seth's pants and reveals his hard meat. With skillful lips, Aiden works Seth's turgid cock. Every mouth pump sends Seth into ecstasy.
Seth pushes his cock in and out of Aiden's mouth knowing he want's every inch down his throat. Face fucking is Aiden's forte and Seth brings on the thrusts.
Heavy pre-cum is in store for Aiden's beautiful lips as Seth's cock releases a huge deposit of clear goodness. The glistening string of clear pre-cum is evidence that Seth is ready to unleash his massive load for Aiden to consume.
Aiden makes sure to not miss one section of Seth's package. He licks and strokes his balls in anticipation. Aiden makes sure Seth is ready to deliver his load.
After some hefty sucking, Seth lets his load go onto Aiden's hungry mouth. Seth's load ejects everywhere as Aiden maneuvers to get every drop he can! He licks, slurps and sucks down every drop of Seth's fresh warm semen.
This is a big-load cum-eating video you're sure to love! As usual, there will be many more loads to come!
SCENES WITH AIDEN CARTER:

Sucking Off Big Chad

Swallowing a Huge Load

Aiden Swallows Big Chad

Ass Fucking & Cum Swapping

Swallowing Twink Spunk

Swallowing Big Cock Aiden