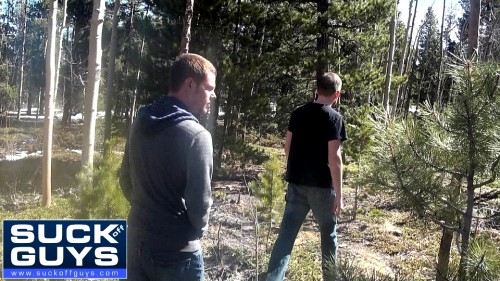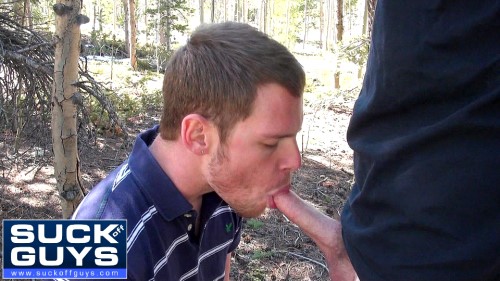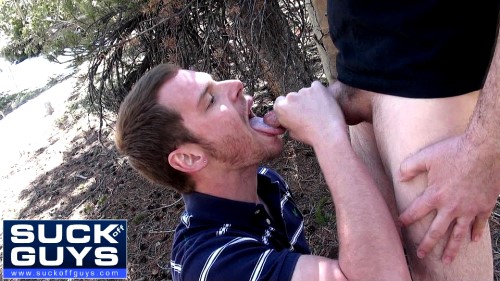 SUCKoffGUYS.com first outdoor shoot of the season kicks off with Evan Parks and Seth Chase. The guys head into the woods for some hot sucking action.
Evan and Seth make their way through the trees and find the perfect spot for an outdoor blowjob. There was still snow on the ground and there was a chill in the air despite the brilliant sunshine dancing around them.
Evan starts the sucking by getting Seth's cock out and then dropping to his knees. Evan expertly takes Seth's dick as he pumps it into Evan's face. Evan has great technique!
Evan seemed quite at home having his face fucked; his lips never loose contact. When we thought he couldn't be more talented at sucking, he deep throats without gagging!
Evan tirelessly sucks, only taking breaks to lick on Seth's nuts. Evan continues to stroke and suck as he opens his mouth in anticipation of a hot load dropping into his mouth.
Evan lays out his tongue like a runway for a streaming jet of cum. Seth gets close as he looks down at Evan. Seth then unleashes his huge load of jizz directly into Evan's mouth. Evan takes the load and swallows; some of Seth's cum landed on Evan's lips.
There are few things more beautiful than cum dripping from a cock sucker's mouth as he goes in for more. Evan, being the cum hungry cock sucker he is, does just that… he goes in for more with his jizz covered mouth and sucks more cum from Seth's cock.
Both guys had an great time and we hope you enjoy this latest cum eating suck off from Evan Parks and Seth Chase.
Thanks for watching.
SCENES WITH EVAN PARKS:

Draining Evan

Swallowing Evan's Load

Barebacking Evan Parks

Fucked by Evan Parks

Swallowing a Big Load in the Woods

Sucking Off Evan Parks