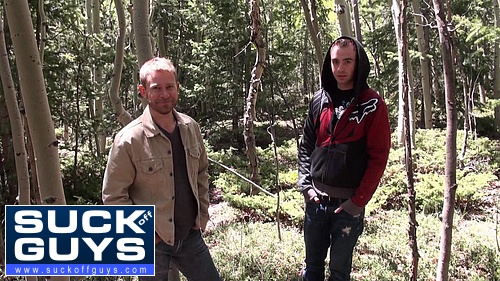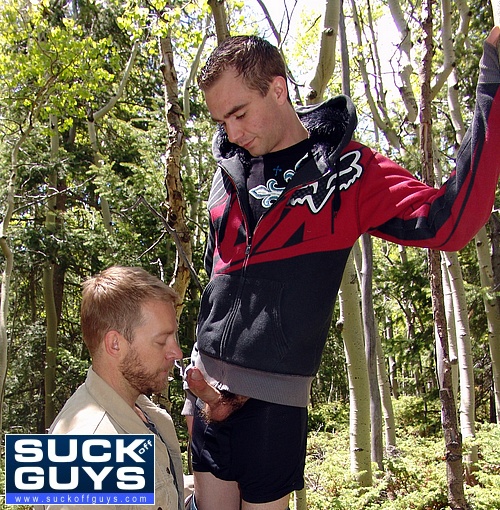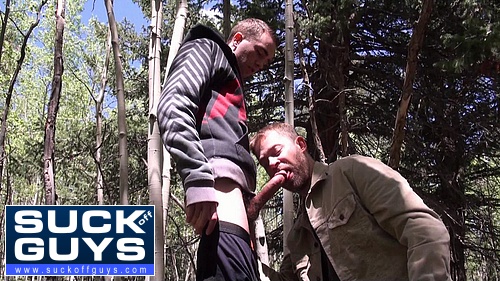 20 year old Hayden Alexander heads to the mountains to engage hot outdoor cock sucking fun.
Aaron & Seth shuttle Hayden up the mountain in their 4×4. Hayden jumps out, has a quick chat with Aaron & Seth, whips out his big cock and Aaron gets right down to it.
Aaron immediately begins to suck on Hayden's monster dick. It only takes a few pumps of Aaron's mouth to get Hayden hard. Hayden moans as his hairy balls get licked and sucked.
Hayden's cock is really beautiful. Not just in size, but shape too. A huge bonus is this young guy's full & thick man bush.
Aaron tries a couple times to make this giant dick go all the way down his throat. He massages Hayden's balls which makes him even harder & bigger, making it all the more difficult to deep-throat.
Hayden was liking the blowjob that Aaron was giving him so much that it was getting him really close to cumming.
Suddenly a truck approaches and passes within 100 feet of us. We had some cover in the aspen trees. However, we could see him so he could definitely see us. This passerby got an eye full of gay cock sucking in the woods. It was a really funny moment and we all had a good laugh about it.
Aaron jumps back on Hayden's pulsating cock, this time with hand hand-to-mouth sucking. The combination of mouth and hand was what makes him spray his load!
Hayden whispers that he's going to cum and Aaron makes his mouth ready for the jizz. Hayden blasts a load all over Aaron's face and mouth. The majority of his cum lands in Aaron's open mouth and gets swallowed.
This is a great suck off and cum swallowing video was shot in the open air, under the sunshine and aspen trees. Enjoy!
SCENES WITH HAYDEN ALEXANDER:

Hayden Alexander's Raw Fuck

Hayden's Forest Facial

Big Load Facial

Big Cock Cum Eating

Sucking Off Big Wood