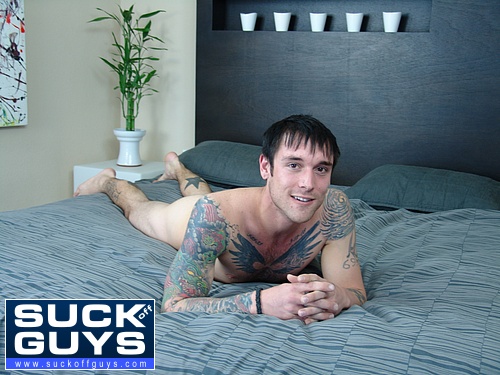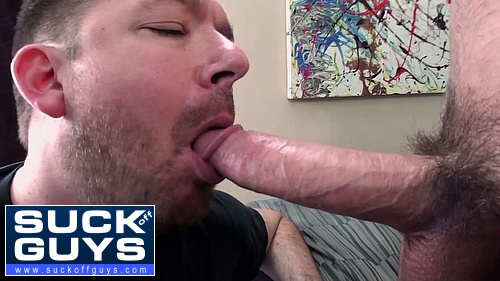 Dead sexy, 23 year old, straight stud, Ethan Ever is back for another great blowjob video. The video opens with Ethan relaxing on the bed and we get right to the action.
It was Seth's turn to give Ethan's huge tool a go; Aaron sucked off Ethan last time and told Seth it was an amazing cock to suck.
Seth starts off sucking on Ethan and getting Ethan's cock puffy. Seth attempts to deep throat Ethan's beast before it's fully hard. Seth's gag reflex sure got a good workout during this shoot. He chokes, starts to slobber and had to take a break a few times as this cock is as thick as it is long.
Ethan stands on the bed giving us a great look at his fantastic body. Seth gives the deep throat one more go, this time with Ethan fully hard; Seth pushed it as far as he could take it and almost fully triggered his gag reflex (if you know whet we mean). Great job Seth!
Seth works Ethan's rock hard dick until a nice squirt of jizz lands on his face! Seth swallows Ethan's load and squeezes as much remaining semen out of Ethan's shaft as he could. He even wipes some off his mustache to get every drop in his mouth and into his belly.
We absolutely love working with Ethan Ever!
SCENES WITH ETHAN EVER:

Two Cock Facial

Huge Cock Cum Swallowing

Ethan Ever Surprise – Day 2

Ethan Ever Surprise – Day 1

Mt. Bareback w/Ethan Ever

Ethan Ever's Fuck & Facial

Mountain Suck Off

Sucking Off 9 Inch Ethan Ever

Introducing Ethan Ever