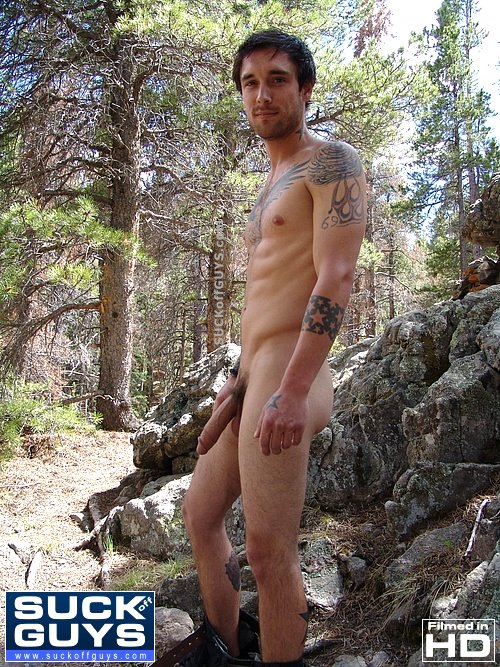 Our members have told us that they can't get enough of Ethan Ever and neither can we!
Ethan has everything when it comes to performing; great face, fantastic body and a HUGE cock. In this video, Ethan Ever's Mountain Suck Off, Seth gets to work on Ethan's unit.
We took Ethan to the hills just outside the city and we had him get back into nature au natural. We also get to see a lot of Ethan's personality and humor in this shoot. Ethan is becoming quite comfortable with us and being in front of the camera.
We start out this adventure on a dirt road in the middle of the mountains. Seth takes some photos of Ethan against rocks where he has him show off Ethan's great body. We had a couple of good laughs before we started the suck off.
To make Ethan more comfortable I had Ethan and Seth go off and start the blowjob without cameras. I then moved in to capture a hot blowjob by Seth. Seth loves to take huge cocks in his mouth and Ethan's dick is perfect.
Ethan was a little nervous about the passing "mountain people" that were there to shoot off their guns.
After a while, Ethan relaxed and let Seth do his magic on his fat dick. Seth sucked on Ethan's cock and milked out a great load that flies in his mouth and face.
Seth, so worked up over having a huge cock in his mouth, takes some of Ethan's cum and strokes one out using the cum as lube.
Amazing shoot, we know you'll enjoy this one.
SCENES WITH ETHAN EVER:

Two Cock Facial

Huge Cock Cum Swallowing

Ethan Ever Surprise – Day 2

Ethan Ever Surprise – Day 1

Mt. Bareback w/Ethan Ever

Ethan Ever's Fuck & Facial

Mountain Suck Off

Sucking Off 9 Inch Ethan Ever

Introducing Ethan Ever