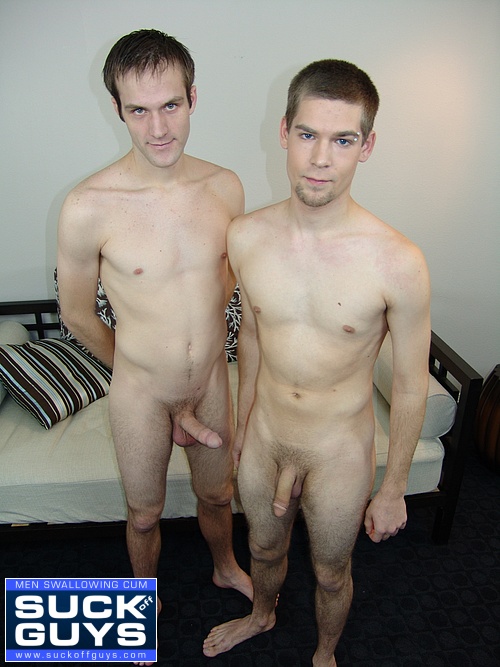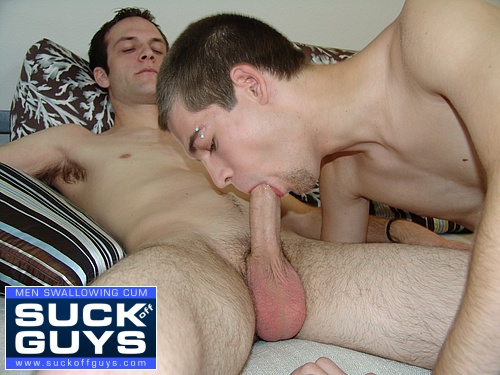 For the first time ever, JJ is going to take a load on his face!
Kyle, 22, and JJ, 19, are both bisexual. JJ told us he was straight before but now claims he's bi. Hummm, we have to wonder if all this guy on guy action is having an effect.
Kyle is more than happy to let his man juice fly on JJ's really cute face. Before they get started we asked them a few questions and crack a few jokes. JJ is more of the talker and Kyle is much more shy and reserved.
They each take out their cocks and start to stroke. Kyle is hard from the get-go and man does he have a gorgeous cock! It's really thick with a big plump mushroom head. As soon as JJ spots Kyle's hard dick, he moves in for the blow.
Kyle face fucks JJ with his pulsating cock and tight body. JJ gets so excited while sucking off Kyle that he blows his load on the floor, barely missing a beat. Even after JJ blows his load he's still really excited to take Kyle's load on his face and mouth.
The look on JJ's face after it gets covered with cum is priceless! I think he was trying to figure out what exactly just happened. I'm pretty sure he'll be back for another helping of cum very soon!
This is one hot video you won't want to miss!
SCENES WITH JACK "JJ" MICHAELS:
SCENES WITH KYLE DAGGETT: