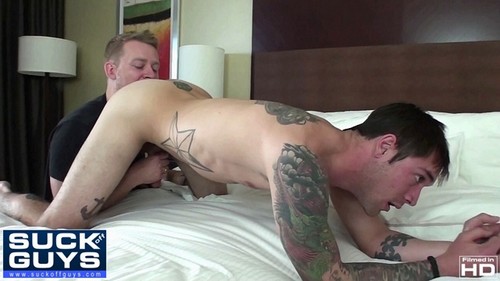 Ethan Ever, 23 years old, could possibly be one of the hottest and friendliest guys we have had the chance to work with. Ethan has got the handsome face with a smile to match, great ass, huge perfectly shaped cock, and the rockin body that just comes naturally to him. And check out all of his great tats!
Ethan says he is bisexual but is definitely mostly straight. The last time he was with a guy was over two years ago and has been bangin' chicks exclusively since.
After getting his fat 9er hard and showing off his beautiful body, Ethan bends over and Aaron goes to town licking his hot hairy ass. It was obvious that Ethan really enjoyed being rimmed as his cock was rock hard and pulsating when Aaron's tongue was going in and out of his hole. I bet a chick has never done this to him!
Aaron then starts blowing Ethan; trying to get the whole thing in down his throat was really a challenge! His cock is just amazing; it's as fat as it is long!
It didn't take much sucking to get Ethan close to shooting his load. Aaron had to keep slowing down to make sure he didn't cum too fast. When it was time to squirt, Ethan delivered his great tasting load straight into Aaron's hungry mouth.
We are going to do our best to bring Ethan in often, so look out for this stud!
Be sure to watch his bonus video where you get to see Ethan take a shower before we all head out for lunch.
SCENES WITH ETHAN EVER:

Two Cock Facial

Huge Cock Cum Swallowing

Ethan Ever Surprise – Day 2

Ethan Ever Surprise – Day 1

Mt. Bareback w/Ethan Ever

Ethan Ever's Fuck & Facial

Mountain Suck Off

Sucking Off 9 Inch Ethan Ever

Introducing Ethan Ever