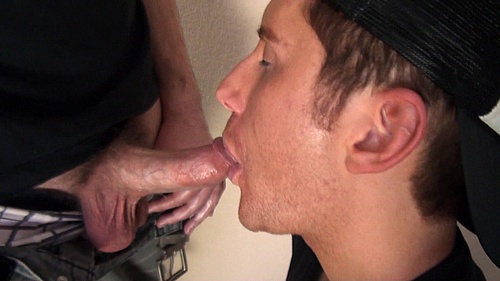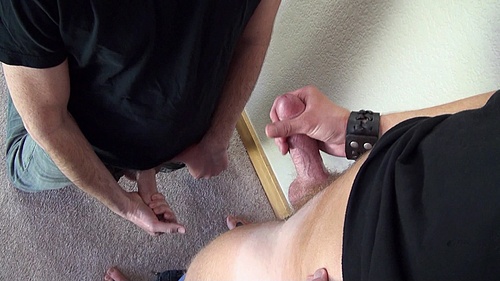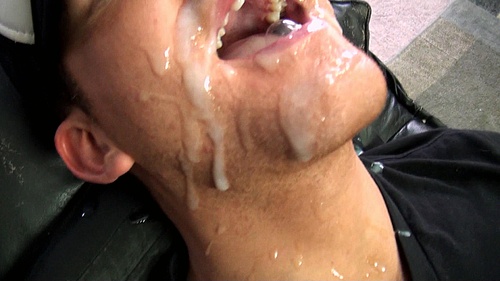 Seth and Aaron originally slotted this video to be a "QuickBlast!". You know, the videos we occasionally do where the focus is getting to the load as fast as possible.
Seth Chase was going to take Addison Cooper's load to his face. However, Addison had a little trouble and opted to take Seth's load instead. Seth saves the day with one of his signature huge loads.
Addison opens up the scene stroking his cock with Seth moving in for some face-to-dick time. Addison starts to get chubby as Seth works on his cock. Aaron pans the camera down to show Seth's raging hard-on as he sucks dick.
Addison moans as his cock gets worked over by Seth's mouth and hand. Due to the sounds that Addison was making, both Aaron and Seth thought he was on the verge of cumming. They were wrong. Addison then decides he wants to suck Seth for a bit and drops to his knees and starts his blowjob.
After about 40 minutes (lots of editing down), Addison retires to the sofa for some fingering from Seth. Being mostly a bottom, the guys thought that would help Addison cum for sure.
Seth bangs Addison's hole as he strokes. First one finger, then two. On to massaging the prostate… Still, the moaning was lending its self to a potential cum shot….that never came.
After about an hour of working on his hole and sucking his cock, the guys new that the scene needed to change.
Aaron and Seth decide that it was best that Seth plant some jizz onto Addison's face. Once again, Aaron warns Addison that "his loads are huge, really huge". Addison agrees to the challenge and wants to take one on his face.
Addison is laying down as Seth strokes his cock over the "landing area". Addison is about to get glazed! As Seth starts to moan, legs shaking, we know the cum is about to fly!
Addison opens his mouth in anticipation for the hot load. Seth unleashes a thick, creamy load all over Addison. Addison then takes his tongue and licks the cum off Seth's cock head. Seth squeezes his shaft, milking out more juice which drips into Addison's mouth.
Addison's face & mouth were covered in cum! He looked like a cinnamon roll. Addison talks a lot about how big his loads are. We think after taking Seth's massive load, he might just change his tune a little

Even though this video took WAY longer than planned the end result is great. Addison was a champ and Seth saved the day!
SCENES WITH ADDISON COOPER: