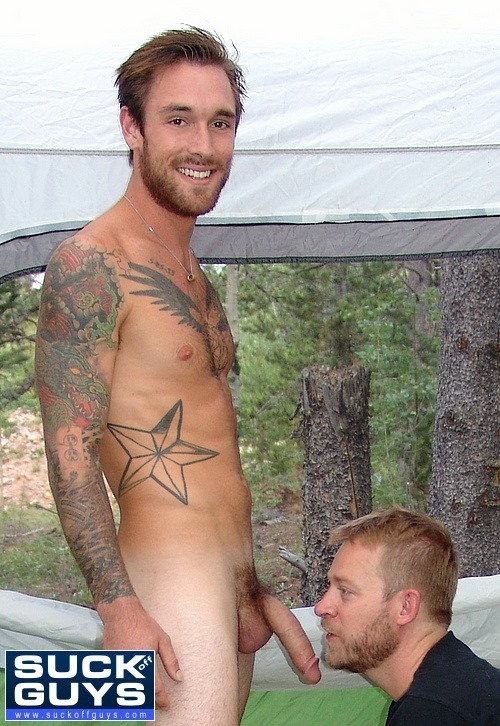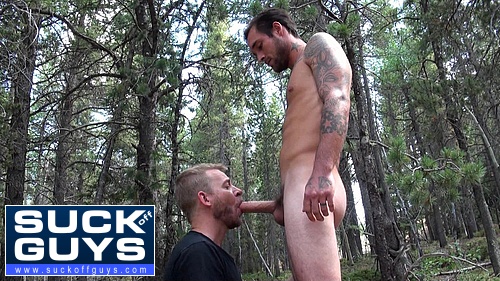 Ethan Ever is back for his second surprise visit video. This time, Aaron French is the lucky recipient of Ethan's load. The guys were out in the woods, tent was up and it was the perfect setting for Ethan's second blowjob of the weekend.
Aaron begins by taking off Ethan's clothes; he didn't need them on anyway. After taking out Ethan's massive dick from his fly, Aaron starts sucking like there is no tomorrow.
Aaron rubs on Ethan's balls as he glided the gargantuan hardon into his mouth and throat. Ethan LOVES getting head and as a show of his appreciation, he smacks his dick on Aaron's face. Aaron then returns the favor and tries his
darnedest to swallow his entire cock! Trying to swallow something that fat resulted in tears of joy.
The guys retreat to the inside of the tent where they begin some nice fat-cock face-fucking. Ethan delivers some hard thrusts to Aaron's suck hole. Ethan knows that Aaron is going to love receiving his big creamy load.
Aaron vigorously bobs his head on Ethan's cock. Ethan's dick pulses as the sucking continues until he can't hold back any more. He then dumps a nice load into Aaron's mouth. Some spunk landed on his beard but was quickly consumed.
Aaron makes sure to milk out any remaining cum from Ethan. The guys then give a celebratory high-five after the cumfest is over.
We hope you enjoy seeing Ethan Ever back at SUCKoffGUYS.com. The guys had a blast spending time with him and they love sharing him with you.
Stay tuned for even more Ethan Ever later this Summer & Fall!