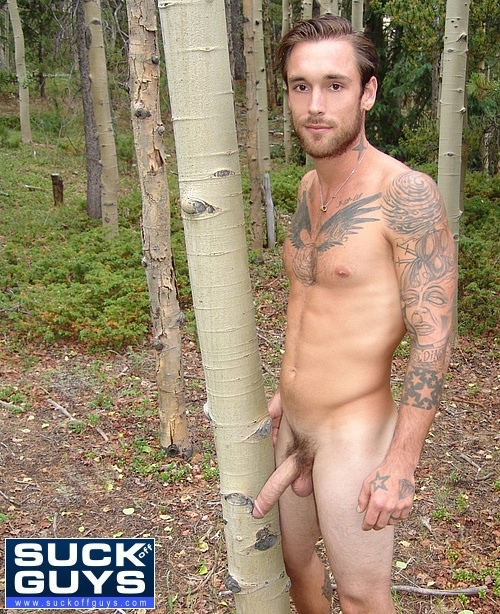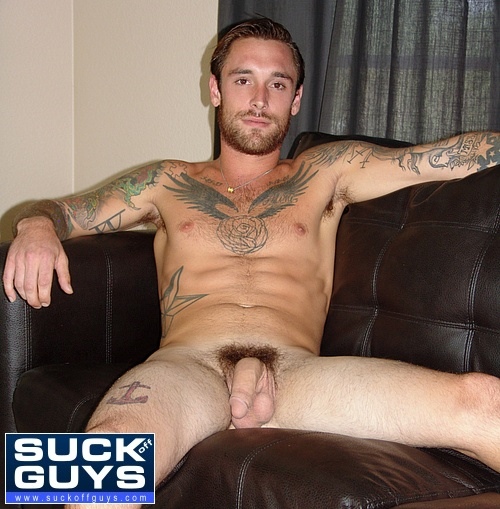 Ethan Ever has long been a member favorite. So it's no surprise that Aaron and Seth were ecstatic when they got a phone call from Ethan saying that he was coming to town, and really wanted to spend some time with them. Who would say no to a visit from Ethan Ever?
It's day one, and after Ethan arrived and was settled in, the guys went on a short hike. Aaron thought it was a good idea to joke around with Ethan a bit before his first shoot in 3 years.
The guys have him take off his clothes and show off his entire body, complete with new tats! Ethan really likes to be naked in his off-camera life, so Aaron had him strip and do some naked exploring; this lets you see his hot body in motion! Aaron couldn't resist showing everyone how easy it is to get Ethan hard. He takes a hold of Ethan's dick and within seconds, he's hard, and well, um, huge!
With the tomfoolery aside, it was finally time for the guys to get Ethan inside for a blowjob. NOTE: It had been about 2 weeks since Ethan had gotten off, so he was prone to blow quickly.
Ethan sits on the sofa and quickly gets himself hard by stroking his massive meat. Seth eagerly moves in and begins sucking on his dick. Seth takes his time licking every inch of Ethan's package. Moving to his knees, Ethan's cock was getting worked over by Seth.
Ethan gave a rather silent signal that he was about to cum. Seth gets ready to collect a big load of cum. Ethan's cock starts oozing out delicious white cum right into Seth's mouth. Seth swallows then licks the semen that was collecting on Ethan's dick head. He takes Ethan's cum dripping cock and keeps sucking on it until he was absolutely sure it was completely drained. Wasting any of Ethan's load was not an option! Not one drop of cum hit the floor!
Seth was so horned up by eating Ethan's fresh load of sperm he just had to shoot his own load. With Ethan's cum coating his mouth and still oozing down his throat, into his stomach, he blasts off a nice sized load on the sofa which lands right next to Ethan.
The guys had a great time and it was just the first day!
Please stay tuned for the next installment of Ethan's Surprise Visit.