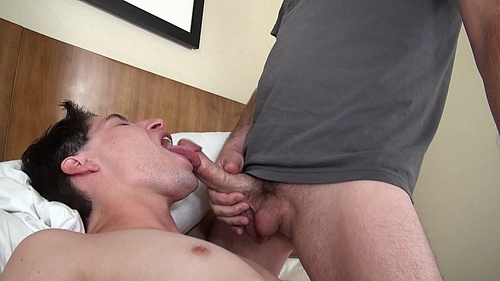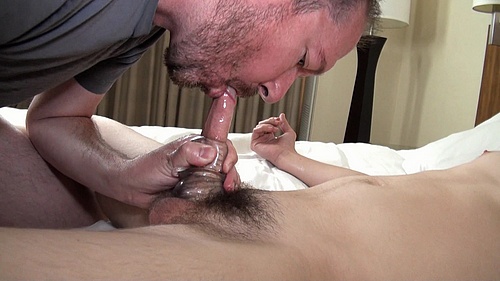 In Barry's first video with Aaron French, he was pretty excited and blew his wad pretty fast. He hung around for a bit and said he'd like to give it another go. Of course Aaron & Seth said yes.
Stick around and pop off as many loads as you want Barry!
Seth wastes no time and has Barry's cock in his mouth right away. Mouth action, hand action and a little j/o sleeve action too. Having Barry's dick in his mouth has got Seth horny as fuck. He takes off his shorts so he can jack himself as he sucks on Barry's cock.
Seth stick his dick in Barry mouth and gives him a nice face fucking. Seth goes back to working on Barry's dick. Barry starts jacking his cock starts breathing hard.
Seth's mouth hovers over Barry's pulsating cock. With the anticipation of warm cum shooting into his mouth, Seth could bust any second himself.
Suddenly, streams of jizz shoot out of Barry's cock right onto Seth's lips.
Seth takes Barry's cum spewing cock in his mouth and swallows every drop of semen Barry could produce. He scoops up some droplets of cum that landed on Barry's stomach and smears it all over his dick. Seth rubs the cum on his fingers onto his lips then licks his fingers clean.
Seth starts jacking himself off using some of Barry's cum as lube.
Seth positions himself over Barry's face then releases a massive load. One stream shoots across Barry's face and open mouth. Then a second stream of jizz lands on Barry's tongue.
Cum continues to flow out of Seth's cock and directly into Barry's open mouth. Barry then takes Seth's dripping dick into his mouth and sucks out the remaining cum still oozing out of Seth's shaft. He continues to suck until he's sure Seth's load is totally drained.
SCENES WITH BARRY FISHER: