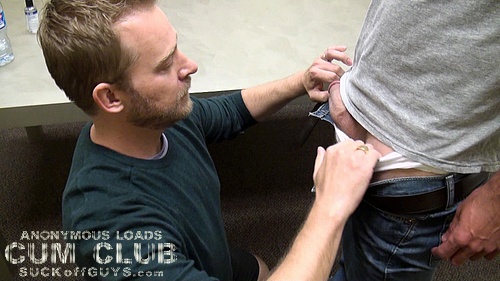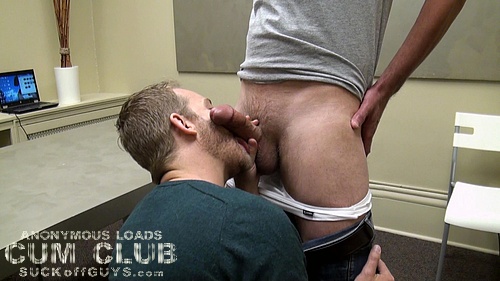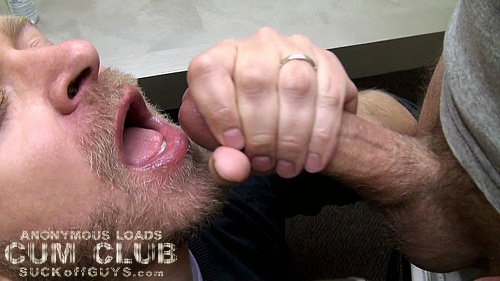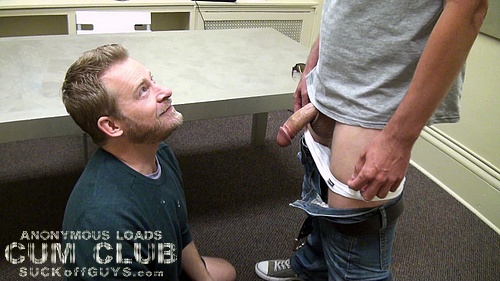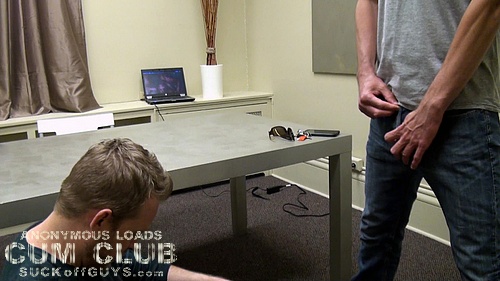 So it's springtime in the city and Aaron & Seth were out enjoying the beautiful day. The guys were sitting outside eating lunch on a busy pedestrian mall. Aaron notices this super hot guy walking by. They make eye contact and Aaron bluntly asks him, "would you be willing to donate a load of your jizz for a worthy cause". The hot dude asks, "what's the cause?" Aaron responds "my cum addiction". This dude looks over at Seth with amazement. Seth says, "he's not kidding. He'll swallow your spunk right now".
After a few moments the guy says, "no man, I don't even know you guys, plus I'm into chicks, not dicks". Seth hands him a business card and says, "that's OK we're into cock & cum, gay or straight… But if you change your mind, come meet us at our office & be part of our Cum Club."
Aaron & Seth return to the office. After a few minutes they hear a knock on the door. Seth opens the door and holy fuck, it's the hot straight dude from downstairs! Seth invites him in and grabs his camera. Seth says to the dude, "let's do this now! No talking, just whip out your cock!"
Aaron drops to his knees and starts in right away. Oh my God this guy's cock is fucking amazing. It's way bigger than either Aaron or Seth imagined. Nice and long and really, really thick. You know what they say about tall thin guys… Well it's fucking true!
This dude gets rock hard really fast. In a matter of minutes he mumbles, "I'm gonna cum". Fantastic!
Aaron keeps on stroking and sucking. A stream of jizz shoots out of his cock and lands on Aaron's lip. Aaron keeps on sucking out the jizz and swallows every drop that gets released in his mouth.
Always wanting more, Aaron continues to suck the warm juice out of this straight dude's spent, super-sensitive cock.
Aaron has satisfied his cum craving and this straight dude leaves with drained balls.
After the dude leaves, Aaron asks Seth, "What was that guy's name?" Seth replies, "I have no fucking idea!" This truly was a super hot, anonymous hookup.
We're hoping this nameless dude keeps our card, calls up and donates more of his straight boy spunk.
Stay tuned!