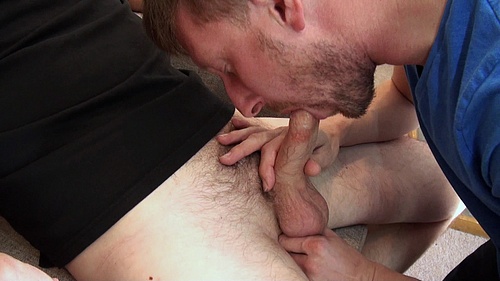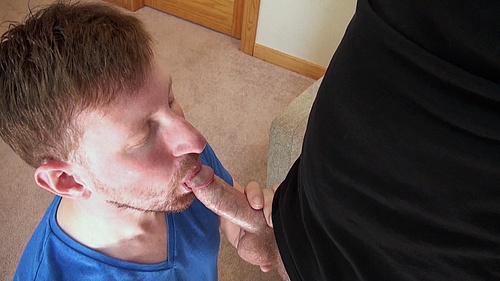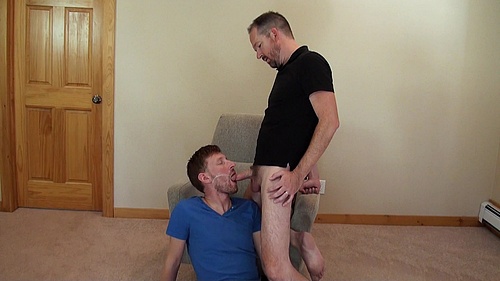 In SOG's last update you witnessed Seth Chase suck down and swallow every drop of jizz Colton Harris could milk out from his thick cock. This time Colton drops to his knees and swallows a gigantic load from Seth.
Seth is quietly sitting in a chair stroking his dick. Colton walks up, drops to his knees and begins servicing Seth's growing cock. Colton deep-throats Seth, getting a taste of his pre-cum.
Seth Stands up and face fucks Colton. Colton moans as Seth pounds his throat with his rock-hard pecker.
Now stroking his cock directly over Colton's wide-open mouth, his legs begin to quiver. This can mean only one thing… A massive load is about to drop!
Globs of cum flow out of Seth's pulsating cock directly into Colton's open mouth. Then a stream of jizz jets across his face sticking to his bearded cheek.
Colton keeps his mouth open to collect the rest of Seth's man-juice. His mouth is literally over-flowing with fresh warm semen.
Jizz drips from his lips as he takes Seth's spewing cock back in his mouth. Colton swallows all the cum that has collected in his mouth as he slides Seth's dick down his throat. You can actually see him gulp it down as he almost chokes on the cum.
Colton continues to suck on Seth's cock until it's totally drained and goes limp. It's as if Colton didn't want the flow of semen to come to an end as he continues to lick the last droplets of cum from Seth's soft dick.
Colton was warned about the size of Seth's loads. He says, "You're not joking about a lot (of cum)". Aaron (French) apologizes and says, " Sorry, I try to prepare everybody"… "I thought a lot (of cum) meant the same to everybody". Now Colton really knows what a huge load of cum looks, feels and tastes like.
Colton & Seth have now swapped & swallowed each other's loads. We think a cum-swapping raw fuck is now in order. Stay tuned…
SCENES WITH COLTON HARRIS: