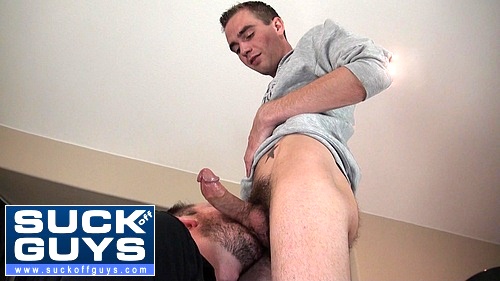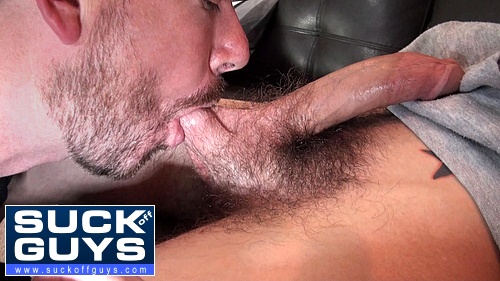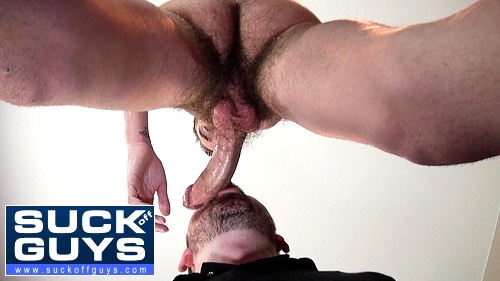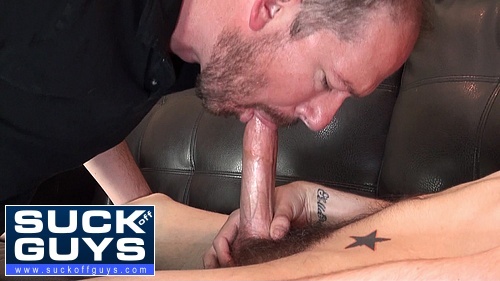 20 year old Hayden Alexander is back up from the city and eager to bust his nut.
Seth was really excited to get his chance to slob on Hayden's knob. Hayden was just kickin' back when Seth moves in and takes his pants down to get a good look at Hayden's huge cock.
Hayden has quite the grin on his face just before Seth lands his lips on his cock. Seth takes the tour of Hayden's junk with his mouth. Hayden asks Seth if his cock is big enough for him; Seth just giggles and continues to suck.
Hayden was loving the oral servicing. He loves having his hairy balls sucked on and Seth was enjoying munching on them.
Hayden stands up in front of Seth and slaps his meaty dick on Seth's face. Seth bobs on his cock, relishing every inch of Hayden's long and thick dick.
Seth gags down as much as he can in a deep-throat attempt; it's really too big to fit down the average throat! Hayden grabs the back of Seth's head and starts to ram his cock in and out giving him a tonsil pounding he'll feel for days. He jams his cock so hard that Seth gags and has to come up for a breather!
Back to the sofa as Hayden lays back and Seth continues to munch on his cock. Seth speeds things up when Hayden tells him to suck his big cock. His thick dick was so hard as Seth sucked and stroked like crazy trying to get it to explode.
Seth senses Hayden is on the edge of busting positions himself just right. Hayden spurts a huge wad of cum straight into Seth's mouth.
Cum keeps shooting out of Hayden's dick head and runs down his shaft. A giant cock unleashing warm white cum is really a beautiful sight. Seth goes in for more and sucks it all down. He slurps, licks and swallows every last drop of jizz.
Hayden's facial expressions are priceless as he watches Seth lick up and swallow his load. He appears stunned and amazed at what is happening.
Seth takes Hayden's cock back in his mouth and sucks out the last droplets of semen. Hayden is completely drained.
This big cock cum eating video is sure to be a favorite of any and all facial and cum swallowing fans!
SCENES WITH HAYDEN ALEXANDER:

Hayden Alexander's Raw Fuck

Hayden's Forest Facial

Big Load Facial

Big Cock Cum Eating

Sucking Off Big Wood