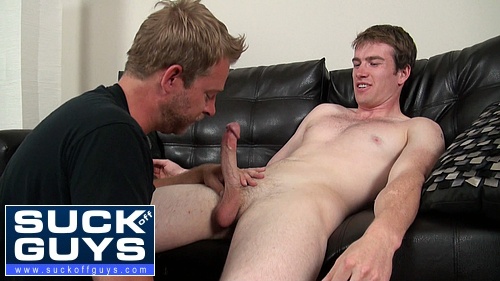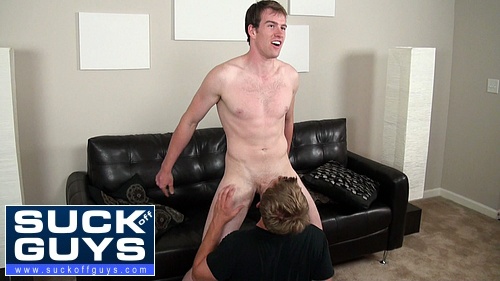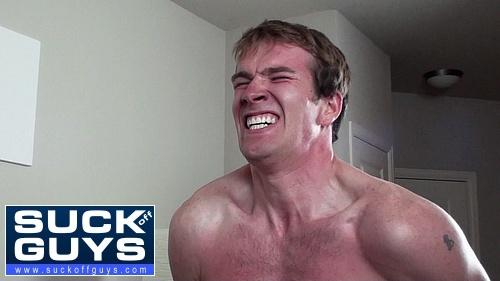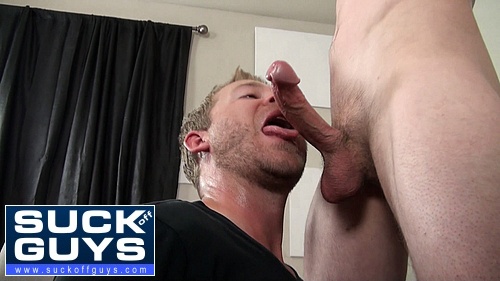 Alexander King is back and he's getting sucked off by Aaron French.
Alexander is a hot ginger with a large cock just begging for a good blowjob. Aaron's mouth was watering just waiting to get a hold of this guy's man meat.
Alexander was relaxing on the sofa when Aaron moved in to take care of his cock. Aaron takes off Alexander's pants and unleashes the beast!
With some ball licking and some teasing with Aaron's mouth, Alexander was enjoying his pre-suckoff very much.
Alexander was very vocal from the get-go. As Seth interviewed Alexander, Aaron was busy working Alexander's fat dick.
Alexander has a nice dick and loved being deep throated. Aaron continues to give Alexander what EVER he wanted when it came to servicing his cock. Whatever Alexander wanted, Aaron gave him. Fast, slow, deep, hard; it was all good.
Both Aaron and Alexander were really enjoying the suckoff. These guys were totally into this scene.
Aaron works over Alexander's cock as it's never been worked before. Aaron can't get enough of Alexander and Alexander can't get enough of what Aaron brings to the table.
At one point, Alexander fucks Aaron's face really hard. This video just gets hotter and hotter!
Alexander was SO hard throughout the entire scene! It was fucking amazing! He really puts Aaron's mouth through the wringer.
The amazing sucking keeps going on until Alexander is close. Aaron does not cease until Alexander gives him his much needed reward; his cum!
Aaron strokes and sucks, licks his balls, until Alexander EXPLODES with a nice load all over Aaron's face. His cum lands in all the right places. Aaron has Alexander's cum on his face and in his mouth.
Aaron squeezes out everything and makes sure Alexander is fully satisfied. We hope you guys love this video; we loved filming with Alexander!
SCENES WITH ALEXANDER KING:

Fucked by Alexander

Big Dick Facial

Swallowing Every Drop