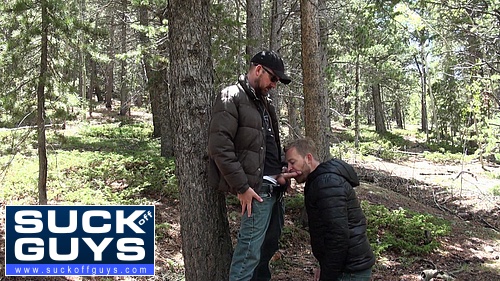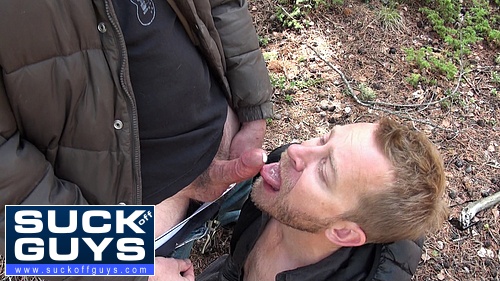 Seth and Aaron went on a Spring hike the other day to look for wildlife. So they put on their puffy coats and hit the trail. They ended up at an old campsite and decided to get wild.
Once they were all settled in Aaron opens Seth's pants and begins sucking. Aaron loves to have a hard dick in his mouth and Seth loves to have his cock sucked.
Aaron takes off his pants and starts stroking his dick while he sucks on Seth. Aaron was so hungry for Seth's cum and you can see his hunger when he asks for Seth to squirt pre-cum in his mouth.
Seth's balls were so tight and ready to blow as Aaron worked on his dick. Seth jams his dick down Aaron's throat then squeezes more pre-cum for Aaron to eat up.
Seth was REALLY ready to pop off a nutt into Aaron's mouth. Aaron milks and sucks until Seth can't hold back. Seth blows one load that lands in Aaron's mouth. He then has a nice surprise of a second huge jizz wad that paints Aaron's face!
MORE OUTDOOR SCENES:

The Suck Me Tree

Gunshot Cumshot

Mosquito Bareback

Winter 4×4 Suck Off

Ethan Ever Surprise – Day 2

Ethan Ever Surprise – Day 1

Sucking Off Big Wood

Swallowing a Big Load in the Woods

Thunder Mountain Facial

Feed Me Your Cum!

Double Mountain Suckoff

Mt. Bareback