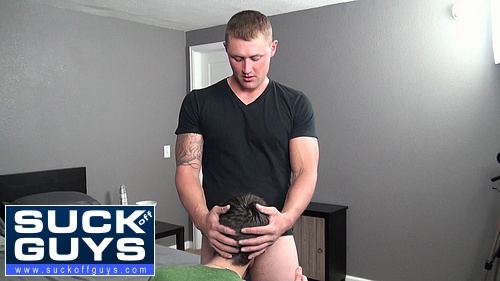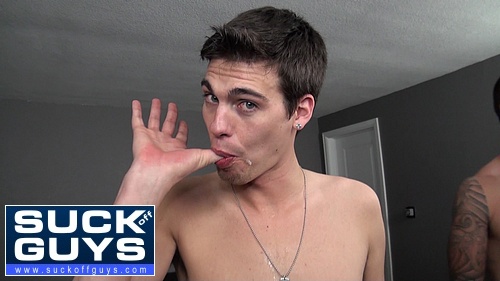 Sexy twink, Aiden Carter, goes down on hunky Chad Hanson for this weeks release on SUCKoffGUYS.com.
Chad has been working out and looks buff, so we thought it would be a good idea to get him in to receive a bj from Aiden. The guys don't waste time getting right to work.
Aiden gets right on his knees and opens Chad's pants and immediately starts working on his cock. Chad must really like it; his cock was hard in a millisecond. He works the back of Aiden's head to get the right rhythm.
Soon, both guys are striping off all their clothes. As Aiden takes off his pants you see his nice low-hanging balls! He quickly returns to sucking; his mouth gliding the entire length of Chad's fat dick.
Throwing his head back in his signature fashion, Chad relishes as Aiden deep-throats him. Chad speeds up the head bobs and develops a nice "sex rash" as his face flushes from the excitement.
Aiden's beautiful, full lips wrap around Chad's pecker like a Hoover. Chad then quickly takes over and strokes his cock until he can't hold back. Aiden was waiting just under in anticipation of a hot facial.
Chad gives little warning as he nutts all over Aiden's body and face. With cum all over him, Aiden takes the opportunity and cleans up the cum with his mouth. With Chad's puffy cock still in his face, Aiden milks every drop from Chad!
We hope you you enjoy this week's latest installment with Aiden Carter and Chad Hanson.
Thanks for watching!
SCENES WITH CHAD HANSON:

Suck, Swallow & the Clean Up

Sucking Off Big Chad

Servicing Chad Hanson

Aiden Swallows Big Chad

Fucked by Chad Hanson

Sucking Off Chad Hanson
SCENES WITH AIDEN CARTER:

Sucking Off Big Chad

Swallowing a Huge Load

Aiden Swallows Big Chad

Ass Fucking & Cum Swapping

Swallowing Twink Spunk

Swallowing Big Cock Aiden