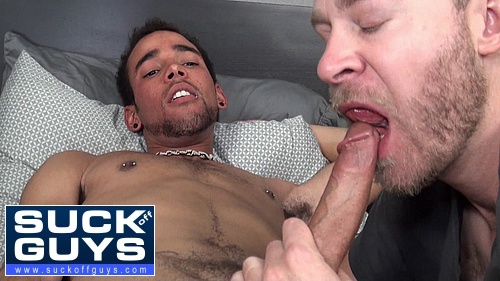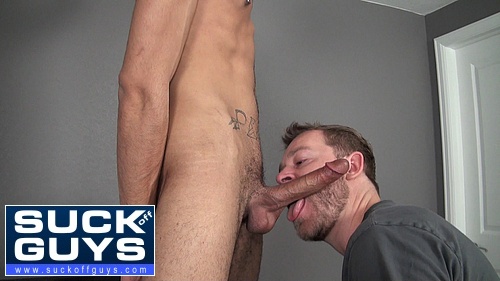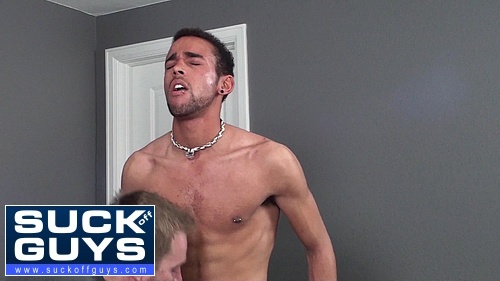 SUCKoffGUYS.com is happy to bring you Kilo Lang. Kilo is a hot 21 year-old guy with a great smile, really nice cock and a great big load.
Kilo is a really sweet guy. He dates girls but really likes to mess around with guys. Revealed in his interview, he really likes to shoot his spunk on the face. That's alright with us! With that said, Aaron begins Kilo's blowjob.
After unzipping his pants, Kilo has no problem getting hard right away as Aaron sucks on his handsome cock. Kilo is obviously enjoying his unit being sucked on.
Aaron doesn't miss an inch of Kilo's shaft. Kilo really liked it when Aaron shoved his cock completely down his throat. He was so into having his knob slobbed that he was writhing with each head bob.
At one point during some deep-throating, Aaron thought he was hurting Kilo. However, it was the contrary, he was really liking it. Kilo just kept getting harder and harder.
Sex was oozing from Kilo and you can tell he was ready to cum. His facial expressions were to die for. Kilo face fucks Aaron's throat with some pretty aggressive pumps; at some points going balls deep!
Kilo's cock was so hard and he was ready to blow his load. Aaron bobs up and down on his cock faster and faster. Kilo's body tightens as he says he's going to blow. His body tremors as he shoots a fat load all over Aaron's face. Cum flew all over Aaron's beard and dripped off his chin. Aaron makes sure Kilo's shaft is drained by sucking the rest out.
SCENES WITH KILO LANG:

Big Cum Facial for Kilo

Big Load From Kilo