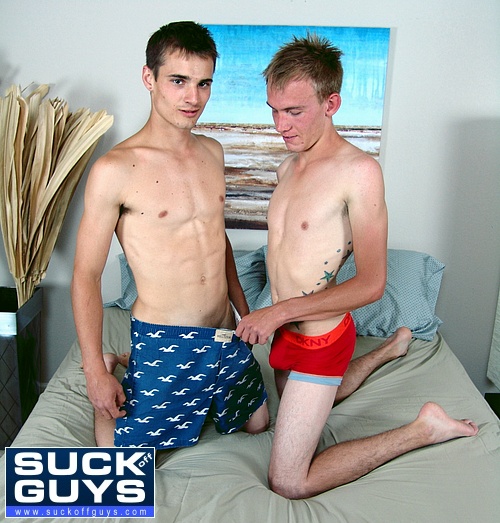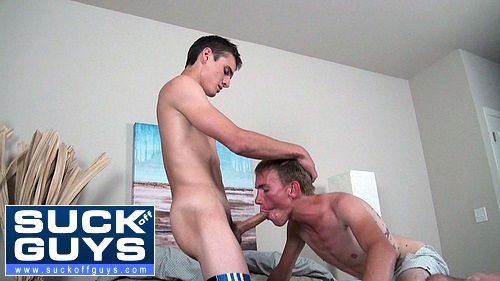 It's not every day you meet someone and five minutes later you're giving them a blowjob and taking their cum in your mouth. Wait! Maybe that does happen every day…
Cum sucker Talen Matthews, 23, and hot straight boy Ashton Clarke, 19, were both very quiet to start out and as expected, extremely nervous.
Directly after the short interview, Talen gets right down to business sucking on Ashton's beautiful uncut cock. Ashton reacts immediately to the blowjob and in no time is hard as a rock.
Talen takes off his pants and you get to see how much he's into sucking off Ashton as evidenced by his own hard dick.
He was so horned up by having Ashton's beautiful uncut cock in his mouth that he was dripping pre-cum everywhere!
Ashton fucks Talen's face in a couple of positions, giving Talen his fat dick nice and deep. Talen was stroking his cock all the way through the face fucking; it seemed to really turn him on.
The guys change up again and Talen moves to the floor so he's eye-level with Ashton's cock. Ashton feeds him his dick. Ashton fucks away and gets close to letting his nut fly.
Talen has his lips around Ashton's cock as Ashton pumps. After some furious thrusts, Ashton pulls out his cock and blows a hefty load on Talen's face!
Ashton collects some of his warm load on his dick head and shoves it back in Talen's mouth. Talen wanted more and continues to clean off Ashton's dick, making sure all the cum is drained and swallowed.
SCENES WITH ASHTON CLARKE:

Swallowing Straight Spunk

Talen Sucks Off Ashton

Cum Eating Facial

Young, Fit & Uncut!
SCENES WITH TALEN MATTHEWS:

Fucking Talen Matthews Raw

Talen Sucks Off Ashton

Swallowing Straight Spunk

Aaron, Seth & Talen – P.O.V.

Sucking Off Talen Matthews