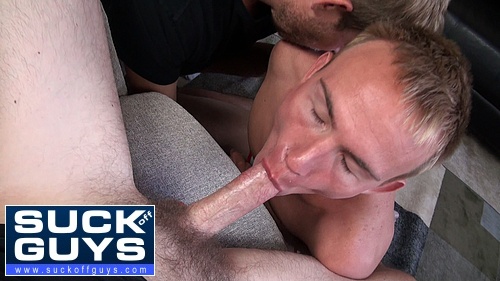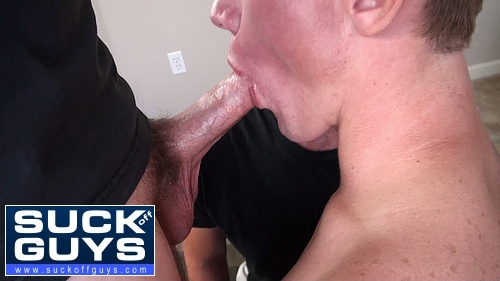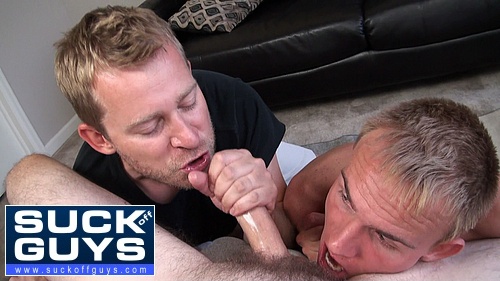 After getting fucked raw last week by Seth Chase over at our brand new site, FUCKoffGUYS.com, 23 year old Talen Matthews returns for more. This time he's helping Aaron French give Seth a duel blowjob; P.O.V.
Talen gets this point of view (POV) video started by taking off Seth's pants and immediately starts sucking on his dick. Talen licks the tip and sucks on the shaft with expert skill.
Aaron then gets into the action by taking over and letting Talen suck on Seth's balls. Aaron and Talen take turns on Seth's hardon.
As Talen sucks more on Seth, Aaron moves in behind Talen and gives him some encouragement from behind by licking and kissing Talen's back.
Talen keeps Seth's cock occupied and continues to suck and jack his dick. Talen then shares Seth's cock by putting it in Aaron's mouth.
Seth's dick was really hard having two blonds go down on him. As Aaron and Talen work over Seth's cock they take turns licking and kissing each other.
Aaron then turns his attention to both Seth's and Talen's hard dicks. Seth was then ready to have Aaron and Talen pump the cum out of his dick.
Aaron stroked on Seth's cock while Talen licked his balls. Seth blew his load in Aaron's mouth. Talen moves in for a kiss and gets a taste of Seth's load.
SCENES WITH TALEN MATTHEWS:

Fucking Talen Matthews Raw

Talen Sucks Off Ashton

Swallowing Straight Spunk

Aaron, Seth & Talen – P.O.V.

Sucking Off Talen Matthews