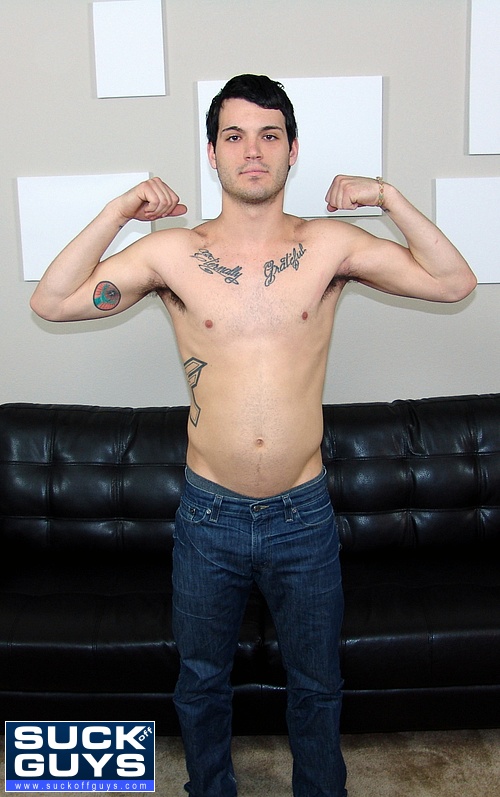 Meet 21 year old Ben Porter.
Ben is a fine male specimen. He has a really cute face with adorable big puppy dog eyes, a great body, a really big cock and a delicious set of low hanging nuts.
Aaron couldn't wait to get into this straight boy's pants. Ben sits down on the sofa, and Aaron makes his moves right away.
As soon as Aaron starts touching Ben's crotch, his bulge started to grow. His dick pops out and it was on!
Ben's dick is so erect it points straight in the air, just like a flag pole.
Matching Ben's enormous cock is a very suck-able set of big nuts.
Aaron works over Ben's balls, licks, sucks and squeezes them before munching on some pre-cum that started dripping from Ben's boner.
Aaron uses the pre-cum along with his his hand & mouth to get Ben to the brink of cumming. Harder and harder Aaron works and Ben starts to quiver, ready to shoot his big load.
Ben can't hold back any longer and covers Aaron's mouth with his tasty man juice.
Ben did a great job during his first time on video. This gentle giant is one beautiful man we can't get enough of.
Enjoy!
SIMILAR STRAIGHT GUY & FIRST GAY SEX VIDEOS:

Swallowing Jesse's Load

Jaxson's First Time

Jaron's 1st Taste

Seducing David Sparks

Sucking Off Chad Hanson

Trevor Grant's First Suck Off

Sucking Off Uncut Eric Stowe

Swallowing A Gentle Giant

Sucking Off Jacob Mathers

Young, Fit & Uncut!

Sucking Off Stefen Sonne

Double Load From Taylor

Swallowing Straight Stud Caleb Klein

Cum Covered Thug

Swallowing Straight Tony