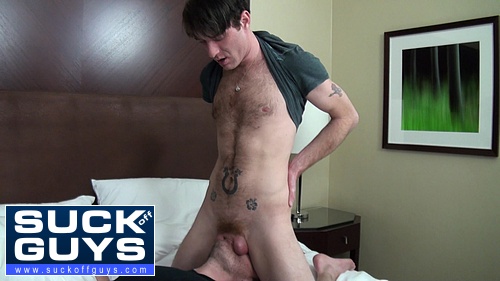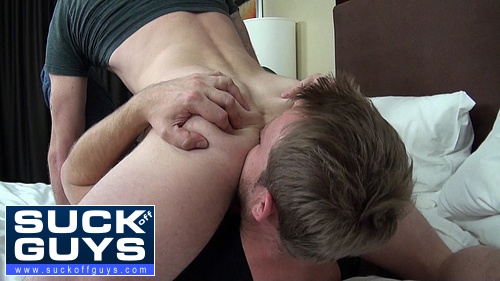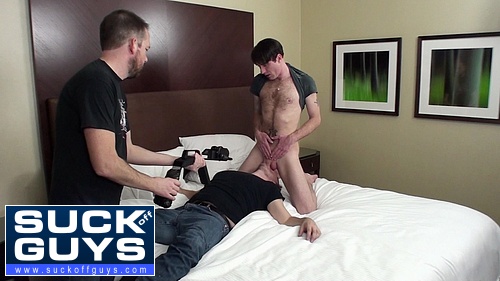 Once in a while we have a shoot that doesn't go quite as planned. This scene is case in point. In fact, you'll see a little bit of what would normally be saved for an outtakes video. This is about as real as it gets.
We start off with Aaron going to town on Quinn's cock. Once he discovered that Quinn was going to have a bit of trouble getting hard, Aaron moves on to eating out Quinn's hole. That helped a little bit and got quinn going a bit. For some added encouragement, we turned on a porn video. This helped as Quinn was finally able to sport some wood.
Half way into watching the porn video, Quinn tells us he'd rather use a video he has saved on his phone. Hey, whatever it takes!
While Quinn tried to work himself up to the point of being able to cum, we started to think we were going to have a non-usable scene. A suckoff scene with no cumshot just doesn't cut it…
After a bit of hard stroking by Quinn, he whips around and says, "I'm ready". Without hesitation, he blows his load straight into Aaron's mouth. Awsome!
It may not be the way we planned on getting there, but we ended up getting what we wanted: a load of spunk in Aaron's mouth!
Aaron swallows the first few quirts of cum, with just a little left on his beard. Quinn then collapses in exhaustion.
SCENES WITH QUINN BLACKWOOD:

Group Suckoff

Swallowing Quinn

Giant Cum Load For Quinn

Walker & Quinn

Quinn & Justin