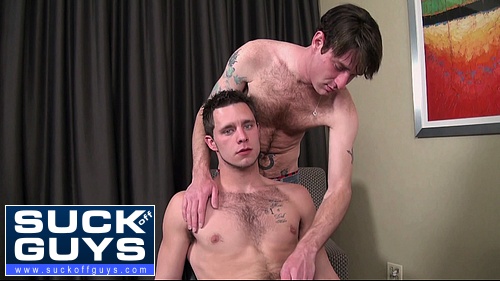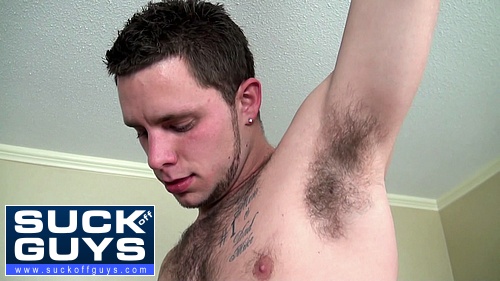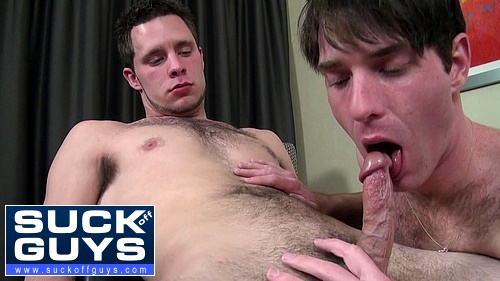 We are pleased to introduce 23 year old Walker Michaels to our SUCKoffGUYS.com lineup. In this update we have paired this hot straight stud up with 27 year old Quinn Blackwood.
During Walker's interview at our office, he informed us that he loves human touch and if the guy he was paired up with could do more than just suck, he would be really turned on.
Walker starts out relaxing in a chair as Quinn begins the exploration of Walker's super hot & hairy body. Walker really likes his nipples played with and Quinn went right for them; teasing and nibbling on them. Walker's reaction is so hot! He moans in ecstasy every time a new part of his body is touched.
When it was time for Quinn to take down Walker's pants, Walker was hard and ready for his blowjob. Quinn sucks him for a bit in the chair and then we move to the bed for more hot sucking.
Walker moans as Quinn works his cock and squeezes his big nuts. All the while Walker working his nipples as Quinn takes care of licking and sucking.
With Walker on his back, Quinn moves back and forth from Walker's hot cock to his nipples and even moves on to massaging his prostate. Walker has Quinn's cock one hand and makes sure his nipples are pinched with the other.
Quinn moves to the floor with Walker towering over him; Quinn was ready for some face fucking. Walker pumps away. Quinn took Walker's cock as far as he could go. He later told us Walker's dick was hitting in a "tickle" spot that was making him choke.
Walker was ready to bust a nut and we had them get back on the bed. Quinn sucks and strokes Walker as he is worked into a hot frenzy. Walker shoots his load as Quinn catches some in his mouth. We also caught Walkers facial expressions as he was cumming.
Walker really enjoyed his blowjob and Quinn really like servicing our newest addition to SUCKoffGUYS.com, Walker Michaels. We know you're going to enjoy this hot update.
SCENES WITH QUINN BLACKWOOD:

Group Suckoff

Swallowing Quinn

Giant Cum Load For Quinn

Walker & Quinn

Quinn & Justin
SCENES WITH WALKER MICHEALS:

Blasting Walker

Cum Bubbles

Thunder Mountain Facial

Birthday Rim & BJ

Walker & Shane

3-Way Fuck

Cum Lube + Double Facial

Walker & Kyle

JJ's Cum Shower

Fucked by Walker

Walker & Seth

Walker & Quinn