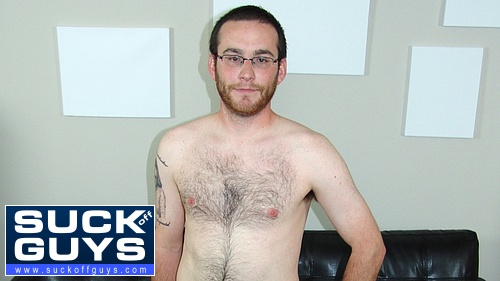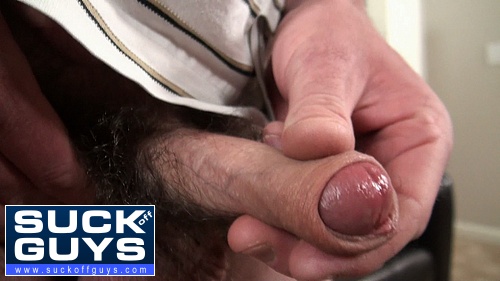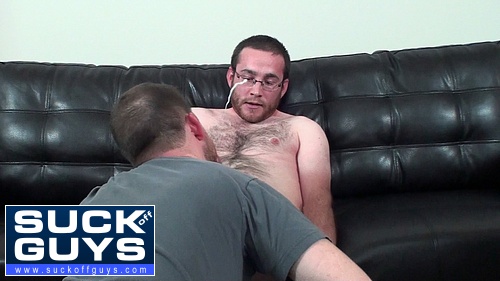 26 year old, straight & hairy Eric Stowe visits the SOG studio to release his five day load.
Eric was really nervous, but he informed us that he had a five day load saved up and was really wanting it sucked out. He said it's been so long since he's been with anyone that he didn't really care if it was a guy or girl the got him off, he just needed to blow big time.
Seth Chase was up for the job of taking Eric's uncut cock and making it squirt.
Seth drops to his knees, and pulls out Eric's uncut dick. Seth takes off Eric's pants and sucks on Eric's big hairy balls.
You could tell Eric doesn't actually get many blowjobs as he wasn't sure what to do. He kept grabbing his cock with his hand trying to assist… We had to tell him to just relax and let Seth work his magic.
Eric finally relaxes a bit, sits back on the sofa and lets Seth get to work.
Eric face fucks Seth for a bit before sitting back down to enjoy the rest of his suckoff. Seth sucks while tugging on his fat balls. Eric was so turned on by Seth squeezing his balls that he was ready to shoot.
Eric blows a nice sized load that goes everywhere. Eric takes some of the cum on his fingers and force feeds it to Seth.
The aftermath was great. Cum was everywhere including dangling from Seth's beard! Eric laid motionless, exhausted and drained, but most of all, very satisfied!
SIMILAR STRAIGHT GUY & FIRST GAY SEX VIDEOS:

Swallowing Jesse's Load

Jaxson's First Time

Jaron's 1st Taste

Seducing David Sparks

Sucking Off Chad Hanson

Trevor Grant's First Suck Off

Sucking Off Uncut Eric Stowe

Swallowing A Gentle Giant

Sucking Off Jacob Mathers

Young, Fit & Uncut!

Sucking Off Stefen Sonne

Double Load From Taylor

Swallowing Straight Stud Caleb Klein

Cum Covered Thug

Swallowing Straight Tony