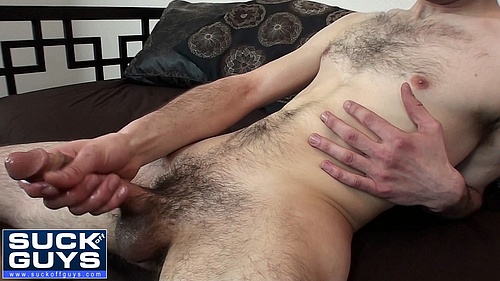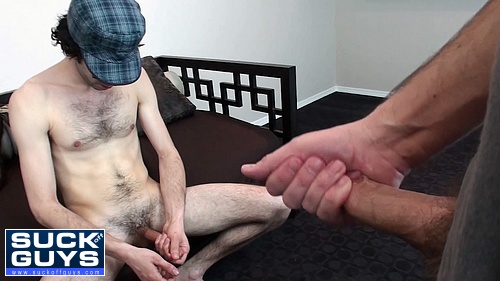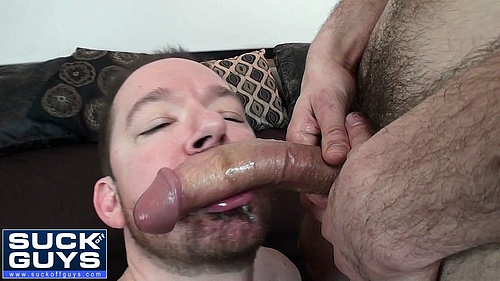 Truth be told, Rick really isn't into dudes but he is really into trannies. Well we don't have any plans to have trannies on this site so cum loving Seth will have to do…
We set up some porn for Rick to jack off to and as soon as he was hard from watching chicks with dicks getting ass fucked, Seth swooped in and went to work.
Knowing he was working toward getting a mouthful of a straight guy's sperm, Seth gets rock hard in no time, whips his dick out and starts jacking off while he's sucking cock. This seemed to help Rick get into it a little more. Seth strips off all his clothes and now is working super hard to get to Rick's load.
Suddenly, Rick shoots a really, really big load onto Seth's tongue. Seth wasn't originally planning on swallowing Rick's cum. However, because there was so much cum flowing out of Rick's cock, if Seth wanted to breath, he had no choice but to gulp down the cum.
Most of the load got pushed to the back of Seth's throat and down it went. Seth figured what the heck and continued to clean up the rest of Rick's load, swallowing every drop of cum to be digested and absorbed into his body.
Of course the taste and sensation of warm cum going down his throat causes Seth to bust his nut. He shoots his big load all over Rick's now soft (but still big) dick and pubes.
The room smelled of fresh jizz, with Seth's mouth & throat coated with fresh cum, and his stomach completely filled up with straight man spunk. Rick's cock, balls and thick pubes were covered with Seth's load.
A truly fantastic cum-filled ending!!!
SIMILAR STRAIGHT GUY & FIRST GAY SEX VIDEOS:

Swallowing Jesse's Load

Jaxson's First Time

Jaron's 1st Taste

Seducing David Sparks

Sucking Off Chad Hanson

Trevor Grant's First Suck Off

Sucking Off Uncut Eric Stowe

Swallowing A Gentle Giant

Sucking Off Jacob Mathers

Young, Fit & Uncut!

Sucking Off Stefen Sonne

Double Load From Taylor

Swallowing Straight Stud Caleb Klein

Cum Covered Thug

Swallowing Straight Tony